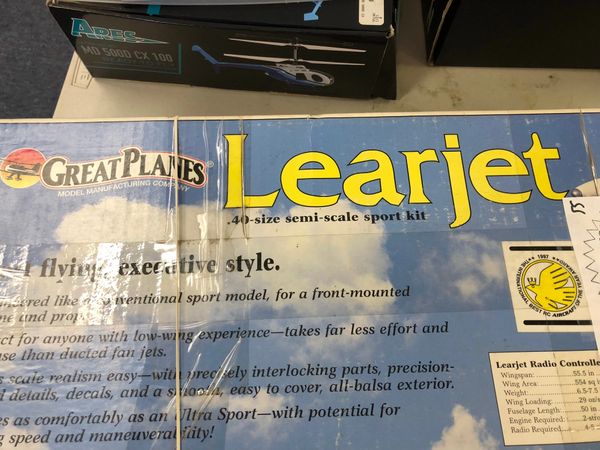 GP Learjet kit
*************Consignment*************


Fortune 500 jet looks and performance now in a sport model!
With its innovative design, precise computer engineering and detailed, photo-illustrated instructions, the Great Planes Learjet is perfect for any low-wing pilot. It handles as comfortably as an Ultra Sport - but has the potential for thrilling speed and maneuverability.
Precision-formed details, all-balsa exterior and realistic decals combine for easy scale finishing.


Wing features standard D-tube construction and tip sheeting to lock in washout, plus a notched leading edge for accurate rib placement.


Precision-formed ABS plastic canopy supplies jet lines without carving-and lifts off for easy access to the fuel tank.


Includes fixed landing gear plus instructions for adding optional retracts (Hobbico Mechanical Retracts, HCAP4000, recommended).
Retracts included with this Consignment item!!!!


The radio compartment can be reached through a hatch in the bottom aft end of the fuselage. Angled servo mounting allows the mechanics for control operation to be hidden within the tail structure.


Instead of expensive ducted fan engines, the Learjet flies with a 2-stroke sport engine and propeller-an easy, affordable way to enjoy the "jet experience."
Reviews