Futaba S9253 Servo Digital Heli Rudder [S9253]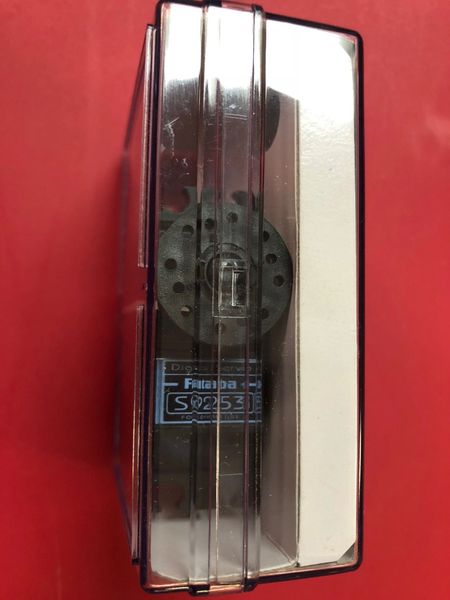 Futaba S9253 Servo Digital Heli Rudder [S9253]
*******This product is listed in the Closeouts, Overstock and Special Buys section because it was part of "special buy" that WSH was able to acquire, when existing inventory for this product is gone, they are all gone and this product will be removed from the site.***********



Futaba S9253 Servo Digital Heli Rudder
This is the Futaba S9253 Digital High Speed Rudder F3C Servo for Gyro
with High-Current Wire Lead and "J" Connector Pre-Installed.
This servo can produce high-current draw from your batteries.
If using NiMH or Li-Po batteries, make sure they are capable
of delivering sufficient Amps.
FEATURES: Digitally enhanced microprocessors cut about 1/2 the response time
from transmitter input to servo reaction.
Dual ball bearings on the output shaft
Coreless motor with Plastic/nylon gear train
High speed
High current, high capacity wire lead with low resistance
Gold plated connectors
Case is made of black plastic
Dust and water resistant (Not waterproof)
Designed exclusively as a tail rotor servo for F3C, 30, 46 and 60
sized helicopters, particularly with SMM gyros such as GY401,
GY502. (Will Not work with the GY601 gyro.)
One year warranty
INCLUDES: One Digital All Purpose Servo w/Small Round Horn
Four Rectangular Grommets
Four Brass Bushings
Four Mounting Screws
One Large Round Horn
One Six Arm Horn
SPECS: Speed: .08 sec/60 degrees (based on 4.8V gyro rating)
Torque: 28 oz/in (2.0 kg-cm) (based on 4.8V gyro rating)
Weight: 1.7 oz (49 g)
Power Supply: 4.8V (Futaba does not recommend using 6V)
Length: 1.6" (41mm)
Width: .8" (20mm)
Height: 1.5" (38mm)
COMMENTS: S9253 Digital Servo Precautions,
-It is best to avoid long leads and Y-harnesses especially with
standard grade wires. If problems are encountered, consider using
heavy duty wire such as Futaba's Heavy Duty Series or Hobbico's
Pro Series ,minimizing lead lengths, and/or removing Y-harnesses.
-Current Drain: Futaba S9253 Servo is specially designed for high-
torque and high-speed, therefore very high current drain is
normal at startup. For ultimate performance when using this servo,
please review the following points.
(1) Always use a 4.8V NiCd w/gyro. Dry cells are rated at 1.5V
each making the overall voltage 6.0V which will damage the gyro.
(2) When using systems with the battery fail safe function it has
a higher cut-off voltage setting which will cause shorter
operation time.
(3) When installing the servo please check pushrod linkage to make
sure there is no binding in order to prevent excessive power
consumption and decrease the life of the motor and battery.
Reviews