Futaba S9154 Digital High Speed Servo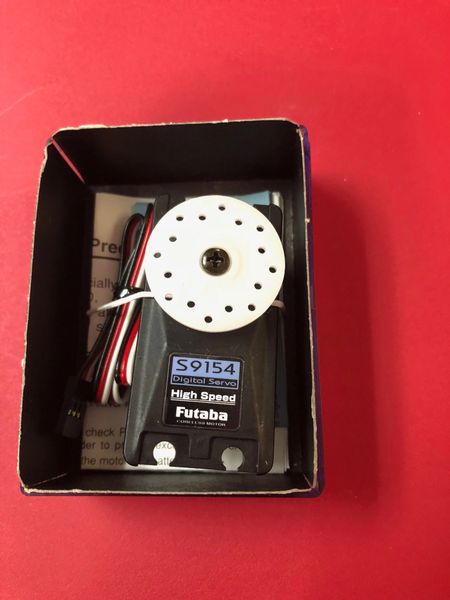 Futaba S9154 Digital High Speed Servo
*******This product is listed in the Closeouts, Overstock and Special Buys section because it was part of "special buy" that WSH was able to acquire, when existing inventory for this product is gone, they are all gone and this product will be removed from the site.***********

This is the Futaba S9154 Digital Low Profile High Speed Aileron Servo with J Connector. Designed for aileron applications on model aircraft.

This servo can produce high-current draw from your batteries. If using NiMH or LiPo batteries, make sure they are capable of delivering sufficient amps.

Features: Coreless motor Digitally enhanced microprocessors cut in half the response time from transmitter input to servo reaction Dust and water resistant-not water proof Low profile aero design is specially suited for wing installations with thin airfoils Nylon gears Black plastic case One year warranty

Includes: One S9154 Digital Low Profile High Speed Aileron Servo One round servo wheel, one 6 arm servo horn four grommets, four mounting screws and two rubber mounts.

Specifications

Speed: .14 sec/60° @ 4.8V
Torque: 64 oz-in @ 4.8V (5.8 kg-cm @ 4.8V)
Length: 1.9" (48mm) Width: 1.1" (28mm)
Height: 1" (25.4mm) Weight: 1.9oz (53g)
Output Shaft Diameter: 8mm
Power Supply: 4.8V (Futaba does NOT recommend using 6V)

Comments: S9154 Digital Servo Precautions, -It is best to avoid long leads and Y-harnesses especially with standard grade wires. If problems are encountered, consider using heavy duty wire such as Futaba's Heavy Duty Series or Hobbico's Pro Series, minimizing lead lengths, and/or removing Y-harnesses. -Current Drain: This digital servo is specially designed for high- torque or high-speed, therefore very high current drain is normal at startup. For ultimate performance when using this servo please review the following points. 1. Radio systems with the Battery Fail Safe function have a higher cut-off voltage setting which will cause shorter operation time. 2. When installing the servo, please check pushrod linkage to make sure there is no binding in order to prevent excessive power consumption and decrease the life of the motor and battery.

A note on Coreless motors: conventional servo motors have a steel core armature wrapped with wire that spins inside the magnets. In a Coreless design, the armature uses a thin wire mesh that forms a cup that spins around the outside of the magnet eliminating the heavy steel core. This design results in smoother operation and faster response time.

This digital servo cannot be used with the following * AM * transmitters as the servo neutral signal is: 1310us. CONQUEST AM, FG Series (T4FG, T5FGK,T6FG, T6FGK, T7FGK), New Terratop, T3EGX, T3PGE, T2NL, T2LGX, T2FR, T2PK series.

Reviews