Futaba S136G Compact Retract Servo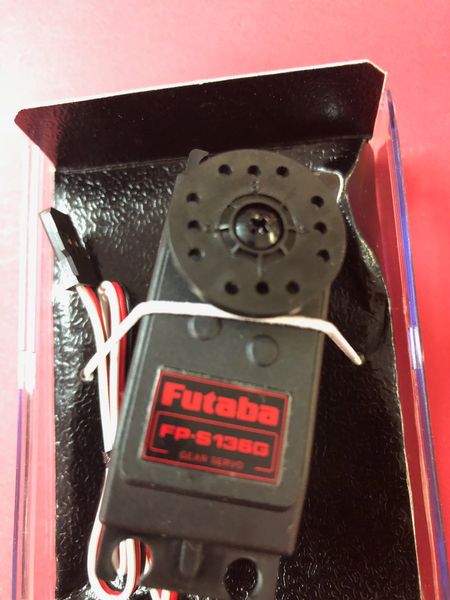 Futaba S136G Compact Retract Servo
*******This product is listed in the Closeouts, Overstock and Special Buys section because it was part of "special buy" that WSH was able to acquire, when existing inventory for this product is gone, they are all gone and this product will be removed from the site.***********
The S136G Compact Landing Gear Retract Servos are extra-flat
so they will fit into a wing.

This servo can produce high-current draw from your batteries.
If using NiMH or Li-Po batteries, make sure they are capable
of delivering sufficient amps.

Two Ball Bearings
Nylon Gear Set
3-pole motor
Compact Size
Travels 180° - full-lock to full-lock -- to hold your gear in
position securely. Not proportional. Perfect for mechanical
retract installation. (see COMMENTS)
One-Year Warranty

One S136G Compact Retract Servo w/ J Connector
Length: 1.8" (1-3/4") (46mm)
Width: 0.9" (7/8") (23mm)
Height: 1.0" (1") (25mm)
Torque: 61 oz-in (4.4 kg-cm) @ 4.8V
76 oz-in (5.5 kg-cm) @ 6V
Speed: 0.60 sec/60° @ 4.8V
0.50 sec/60° @ 6.0V
Weight: 1.5oz (1-1/2oz) (42g)

A retract servo is a very specialized servo. It is non-proportional,
going 180°, "lock to lock". It is specifically made for Mechanical
Retracts to lock the gear in the up and down positions, and DOES
NOT have any means of end point adjustment and cannot be adjusted
by ATV on a transmitter. It is only able to go 180° and provide
full maximum available torque at the two end points.
This is its whole purpose and intentional design, but if someone
has a unique design situation where they need other than 180°
available, they must use a proportional servo, not a Retract Servo.
Retract Servos are designed to withstand constant holding loads
in the up and down positions, unique to the use of Mechanical
Retracts.
Reviews