4 Channel Rolling Code Remote Receiver and Transmitter, CHJ-8802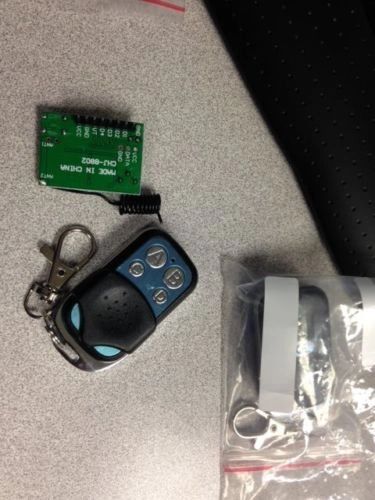 4 Channel Rolling Code Remote Receiver and Transmitter, CHJ-8802
*******This product is listed in the Closeouts, Overstock and Special Buys section because it was part of "special buy" that WSH was able to acquire, when existing inventory for this product is gone, they are all gone and this product will be removed from the site.***********

This is on 315MHz comes with two key fobs (batteries included). The receiver works well between 3.5 and 5 volts DC. These are great for those little projects where you need to activate a switch, light or something similar. The possibilities are almost endless. The price includes the receiver and two (2) key fobs. CHJ-8802 Shipping is included to the "lower 48". I will give discounts for buying in 10 or more units!
Here are some instructions for this unit.
By default the channels pass the "VCC" positive voltage, not ground. It will pass the voltage for as long as you have the button pressed. Now, there are three more configurations. You can "lock" it on. Only way to reset this that I have found so far in testing is to cycle power on the receiver unit. You can "toggle" it, so you can "click on, click off". Last but not least you can turn it on for 2 seconds. Click it, its on for 2 seconds then shuts itself off. In order to activate one of the other three functions either make a solder bridge from the pad marked as "common" in the picture below over the the pad with the function labeled on it that you want. Or solder in a small wire between the pads, your choice. From my testing it seems that the function is the same for all channels. Although from what I have seen the "VT" terminal will only pass voltage while the button is pressed. Remember this will operate between about 3.5 to 5 volts. I did all of my testing by pulling power from one cell of a 3 cell LiPo, it worked every time I hit the button on the remote!
Reviews